Reinforcement of structural elements with composite materials FRP-SRG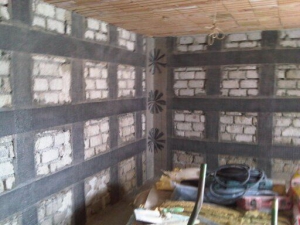 Among the innovative recovery technology we find composite materials as carbon, glass, steel, aramid and basalt for the consolidation, reinforcement and safety of structural elements of both civil and historic, artistic and monumental interest buildings and their infrastructures. These materials, if suitably applied with the right resins and thanks to their physical and chemical characteristics, allow performing consolidations of different nature as: pillar hoops, vault consolidation, bearing and secondary wooden structures consolidation, "camorcanna" vault consolidation, light flat brick vault consolidation and beams, stone floors and walls consolidation.
CARBON FIBER REINFORCED POLYMER (CFRP)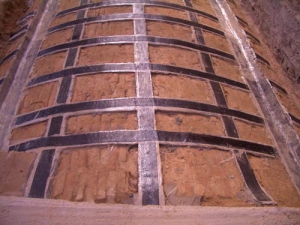 Use of carbon fibers has been decisive because it allowed exceeding the limits inherent to other materials due to their physical-geometrical characteristics.
With CFRP, the element to be reinforced does not change its shape and is burdened by significant increases in weight, which are advantages not be neglected, especially when interventions of buildings affected by earthquakes are concerned.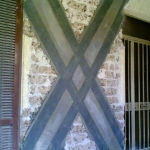 Carbo-system_05 This is a winning technology if it is rightly framed and controlled by the designer, because of its characteristics: lightness, tensile strength and high elastic modulus, durability and flexibility of application and worktime reduction.
The possibility of using tapes and fabrics of various weights, uniaxial or multiaxial, results in containment effects and flexural and shear reinforcements, by overlapping layers suitably directed.
GLASS FIBER REINFORCED POLYMER (GFRP)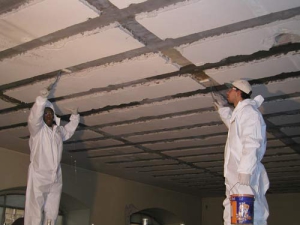 Fiberglass is more and more appreciated side by side with carbon; its greater elasticity (double elongation at break, loads of halved broken, elastic modulus 1/3 compared to carbon) and lower cost are much appreciated. GFRP is widely used in all applications where a containment elastic work of light elements is requested, more than a marked structural function.
Basalt fiber grid reinforcement
The composite materials industry is constantly evolving and Edilsystem proposes new consolidation technologies as basalt fibers, in its constant striving for innovation.
These fibers are produced by volcanic rocks composed of aluminosilicates, titanium and calcium oxide and can be impregnated either with epoxy matrices or cement or hydraulic matrices, in order to guarantee a perfect compatibility with the substrate.
The composition and the spinning process confer basalt fibers excellent mechanical and chemical-physical properties as:
High voltage and breaking strain;
high toughness;
high melting temperature;
abrasion resistance;
low thermal, electric and acoustic conductivity;
not susceptible to hydrolysis phenomena;
excellent resistance to basic and acid chemical agents.
With these qualities, basalt fibers are ideal for applications that require high static and impact resistance, high temperature resistance (over 900º), property of insulation and electromagnetic transparency as well as durability in aggressive environments. Basalt fibers are therefore an excellent alternative to glass and aramid fibers, as they have an excellent verifiable stiffness and better resistance properties to fire and corrosion.
Basalt fiber are also are widely used in the consolidation of structures subjected to dynamic actions  generated by earthquakes, strong winds and blasts, because it guarantees a high resistance to violent impacts, those caused by flying debris and bullets.
Unidirectional Ultra-High Tensile Strength Steel (UHTSS) Reinforcement
Within the range of composite materials we find the innovative unidirectional ultra-High Tensile Strength Steel (UHTSS).
Steel fibers can be low, medium and high density and they are available in brass, galvanized steel or stainless steel coated.
These sheets are unidirectional and made by micro high-strength strands and can be impregnated with organic or inorganic matrix, depending on design requirements or environmental conditions of installation.
Strands are performed by joining together straight steel filaments, plus two more that wrap the previous ones. This provides a unique and specific geometry with excellent mechanical properties and with a perfect chemical and mechanical adherence.
Strands are welded into a non-structural glass fiber grid that facilitates installation and workability, and create a very manageable structural reinforcement sheet, also very workable, that combines in itself excellent mechanical and installation properties of high durability.
Steel fiber fabrics UHTSS have a high orthogonal resistance to the direction of the fibers due to the isotropic properties of steel, so that to ensure structural and mechanical properties unique and higher compared to traditional structural reinforcing sheets (glass, carbon or aramid). They are particularly effective in pillars hoops, dividing walls and realization of connectors; also where fiber is under concentrated stress (in angular points or in the bandage of a quadrangular pillar) or where fiber can be submitted to stress in a not purely axial the direction, which is very common in seismic retrofit situations.
Application of steel fiber can be carried out according to the specifications of the project and the stresses acting on the structure by means of:
Also known as bi-component thixotropic epoxy resins, are very suitable for:  seismic consolidation of RC and PCa structures (*), masonry structures and natural stone structures, as long as the substrate has been appropriately hardened and tempered and is able to transfer these stresses to the underlying structure.
(*) Reinforced concrete and Prestressed concrete
NHL mortars or mono-component fiber-reinforced thixotropic cement mortars.
(NHL= natural hydraulic lime)
The choice of using natural NHL or cement mortars, depends on the nature of the structure on which the fiber will be applied.